SAN MIGUEL GARBAGE RESIDENTIAL SERVICES: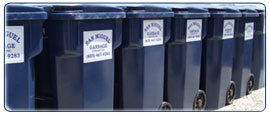 1. All types of garbage & refuse may be put in container with the exception of DIRT, ROCKS, CONSTRUCTION DEBRIS, INCINERATOR OR FIREPLACE ASHES, MOTOR OIL AND PAINT.
2. The container for curb or alley pickup service, must be at the curb or alley before 5:30am on pickup day.
3. Not responsible for items you didn't want thrown away, but left near the container.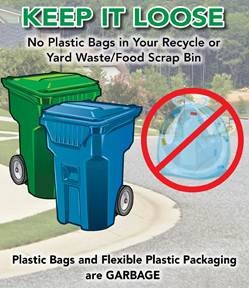 What Goes in the Bins?




Collection Location and Time
Please place your containers at the curb by 5:00 a.m. on your collection day.
Holiday Listing
We observe the following holidays:
New Years Day January 1
Christmas Day December 25
If your pick-up day is ON or AFTER one of the above holidays, pick-up will be delayed one day.
Hazardous Waste
To avoid an interruption of your service, please do not place hazardous materials into your trash. Most paints, pesticides, and petroleum derivatives such as motor oil and solvents are considered hazardous wastes. Additionally, electronic waste such as fluorescent tubes, all batteries, televisions, computer monitors, and other items containing mercury are no longer allowed in your trash. Tires are also not allowed in the trash. There are hazardous waste sites at all San Luis Obispo County landfills.
Special Hauling
Estimates will be given for removal of debris. (Call: 805-467-9283)
Bin Service
1 to 4 cubic yard trash bins (commercial dumpsters) are available for permanent or temporary service.
Roll Off Service
These containers will handle up to 40 cubic yards of material and a maximum of 10 tons. Get a Online Quote
Bulky and Hard to Handle items
For removal of bulky items including water heaters, furnaces, bed springs, mattresses, dressers, couches, washers, dryers, stoves, tables, chairs, refrigerators, freezers, air conditioners, patio furniture, bundles of woods or yardwaste, etc., contact our office to schedule your pickup. IMPORTANT: REMOVE AND SECURE ALL APPLIANCE DOORS TO PROTECT CHILDREN!

Christmas Tree Recycling
San Miguel Garbage collects Christmas Trees on your normal pickup days from the day after Christmas through the second week of January each year. Please remove stands and decorations and place the trees next to your regular trash containers. If you would like further information, please call the number above or contact the Customer Service Department.